CUSTOM PRINTED TAGS
MAKE YOUR PRODUCT STAND OUT FROM THE COMPETITION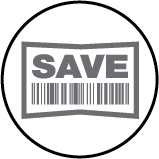 DURABLE TAGS FOR ANY APPLICATION
We are long Run Tag Specialists. We can work from your artwork, or our "in-house graphics" team can create them for you!
Hang Tags
Parts Tag
Inventory Tags
Tyvek Tags
Legal Tags
Print five colors on the front and five colors on the back, consecutively numbered, with barcode or both, Emboss, print a holographic image, die cut, laminate and provide a sheeted or roll product.
Up to 10 colors plus UV Coated or 5 colors front – 5 colors back!
Consecutive Numbering – Barcodes
Paper or synthetics
Permanent or low tac adhesives
Multiple die shapes and sizes
Variable text / images
Pricing
Barcodes
UPC
10,000 minimum run
Contact us for a quick quote on your project. We have sales professionals available to handle your inquiry from initial contact to finished product.
Diversified Label Images
---
Since 1983, we have supplied established solutions or new custom products for our customers' requirements.
We Invite you to learn more about:

© 2019 DIVERSIFIED LABEL IMAGES. ALL RIGHTS RESERVED.