PRODUCTS
MAKE YOUR PRODUCT STAND OUT FROM THE COMPETITION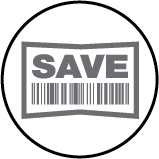 DLI can print coupons in a variety of different shapes and styles including those with multiple pages. Click here for more information.
DLI can print your images on various sizes of cartons from 2" x 2" to 10" x 6". They ship finished and folded and are available with several different package and folding styles.
Our various numbers and descriptives complement your pricing needs to entice customers and follow through with sales.
Custom point-of-sale items bring attention to your products and help clarify the price. Our POS products can be used together for a custom presentation.
DLI prints custom labels using a four-color process, state-of-the-art presses and the most recent technology to help you brand your product. We print on a variety of different materials and in various sizes.
We produce scratch-off tickets and peel-and-reveal cards using variable data that can have different barcodes or images on each ticket. They can be consecutively numbered and secured to prevent duplication by consumers.
Our Monarch labeling guns and accessories allow you to apply a price directly to a product in store. We can customize labels and guns to fit your needs.
Contact us for a quick quote on your project. We have sales professionals available to handle your inquiry from initial contact to finished product.
Diversified Label Images
---
Since 1983, we have supplied established solutions or new custom products for our customers' requirements.
We Invite you to learn more about:

© 2021 DIVERSIFIED LABEL IMAGES. ALL RIGHTS RESERVED.