CARTON PRINTING
MAKE YOUR PRODUCT STAND OUT FROM THE COMPETITION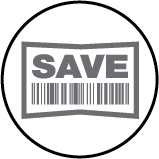 Diversified has created high quality packaging solutions for 25 years.
DLI specializes in mid to short run folding cartons with high quality graphics, board materials from SBS, to SVS and Clear PVC. Colors up to 7 plus coating. Folding Box configurations include single fold to auto bottom, headers, 4-6 corner constructions printed, cut, folded, glued and packaged out the door.

Packaging is critical to the success of your distribution and sales strategies. With our bright UV resistant colors your printed cartons will stand out. We look forward to the opportunity to work with you to maximize your products appearance and packaging usability.
Our capabilities are to print on a flat of up to 15 inch x 16 inch, both sides. We can then custom cut the flat, including windows. This makes us a great source for helping you package your small retail products with eye catching custom product boxes. We offer multiple folding options to fit your small products. At Diversified, we can consult on your product packaging design. We can help develop styles, shapes and graphics. Our goal is to be your long tem supplier of these products as well your labels and POS support material. We will do our best to earn your packaging business.
Standard Styles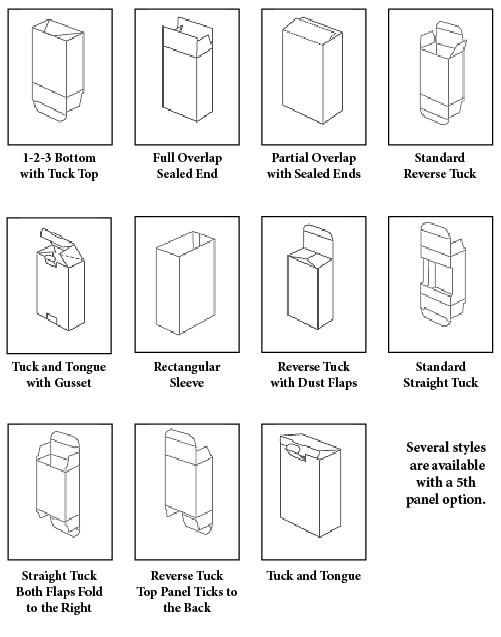 The folding carton examples above are for companies in the food, pharmacy, health and beauty, candle makers and other types of markets. We can supply your company with a stylish printed materials to enhance your products look in the retail environment. Our product carton engineers can help you create a folding carton that properly fits and holds your product. Our in-house graphics department can create the graphics for the outside of the carton to attract and inform your potential customers.
At Diversified we are TURNKEY. We can help with labels and cartons as well as supply peel off instruction, coupons and extended information booklets that apply like labels.
Flexographic Printed Folding Cartons Types
Rectangular Sleeve
Standard Reverse Tuck
Reverse Tuck Top Panel Tucks to the Back
Standard Straight Tuck
Straight Tuck Both Flaps Fold to the Right
1-2-3 Bottom with tuck top
Tuck and Tongue
Tuck and Tongue With Gusset
Reverse Tuck With Dust Flaps
Full Overlap Sealed End
Partial Overlap With Sealed Ends
Flexo Cartons
Small Product Boxes That Sell
Locking Bottom Folding Cartons
POP Displays
Roll End Tuck Top or End Sleeve
Dispenser Boxes
Five Panel hanger
Gable Header
Hang Cards
Contact us for a quick quote on your project. We have sales professionals available to handle your inquiry from initial contact to finished product.
Diversified Label Images
---
Since 1983, we have supplied established solutions or new custom products for our customers' requirements.
We Invite you to learn more about:

© 2019 DIVERSIFIED LABEL IMAGES. ALL RIGHTS RESERVED.